the company
Our team are our most important asset.
From designing and developing the best customs and freight management software to giving you unrivalled business and technical support round the clock and representing your interests by giving you a voice where it matters, with the people who shape the international trade environment.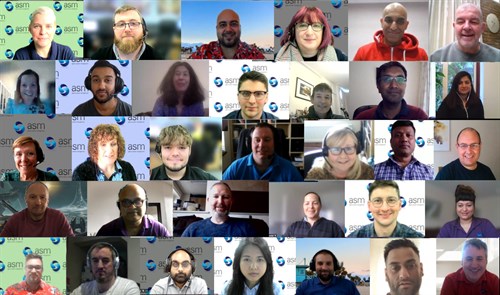 Our team members; from top to bottom, left to right:
Bea Hatherley, Adam Bignell, Manoj Dhiraj, Jenny Hill, Nadeem Khan, Simon Adams
Claire Walsome, Palveer Janda, Estelle Isaacs, Alex Quayle, Jamie Surman, Jason Jhuboo, Padmaja Vinoth
Emma McGachy, Sally Cox, Alfie Skilling, Ian Fraser, Sharon Greer, Pawan Kumar, Alan Finch
Ross Starkey, Chris Souza, Brian Pooley, Karin Conradie-Coppenhall, Nick Osman, Feonna Collins
Adam Bardall, Lee Marley, Roshan Kalyan, Hnin Myint, Andriy Pasternak, Omar Khan, Tony O'Neill
our mission

 To provide a one-stop software and representative solution across the international freight supply chain.
We will develop and support cost-effective, business critical software to match your complex requirements, providing communication and integration between freight forwarders, business partners, community and government systems.
We will protect and promote your interests by actively representing you on key industry and government committees and institutions, influencing strategy to minimise the impact of legislative changes. 

our history
ASM was formed in September 1986 by the Institute of Freight Forwarders (now BIFA). We were set up primarily to protect the technology related interests of freight forwarders at a time of significant change in the forwarding and customs environment in the UK.
We are now a completely independent company but have since that date continued to play a leading active role in representing forwarders interests in discussions with both government and industry bodies. 
We also released our first customs clearance software with the introduction of CHIEF in 1994 and have been producing market leading software for forwarders ever since.
We are a not-for-profit mutual trading company limited by guarantee and owned by our customers. This unique structure means that we re-invest any profits we make into the development of even better software for our customers.

Our non-executive board of directors are drawn from our membership and are all working freight executives performing their duties for ASM voluntarily, ensuring that our software development is driven by the real world needs of the forwarding community, not to satisfy any commercial imperatives of shareholders.
ASM is registered in England. Our company registration number is: 2053849
Our registered office is:
Agency Sector Management (UK) Ltd
Ashford House
41-45 Church Road
Ashford, Middlesex
TW15 2TQ
Our VAT Registration Number is: 4939 482 89